Top 10 Reasons To Get Going on an Estate Plan
Importance of Estate Planning
"It took my husband Mike's heart attack to force us to recognize the need for having an estate plan. It was not smart. You are smarter than that. Create an estate plan today."
The time to have an estate plan really begins the moment you have assets that need to be distributed, but most people put off this important task. There are more than ten good reasons to talk with an estate planning attorney and get your estate plan in order, says the article "Top ten reasons to create an estate plan today" from OakPark.com, but these ten should be compelling enough to get you started.
Don't Wait for an Emergency to Plan
It's better to start with a plan than with an emergency. A sudden health crisis, whether a global pandemic or a spouse's heart attack, should not be the reason for you to get going on your estate plan.
Get an estate plan done
, before you or a loved one needs it.
Protecting Your Minor Children
Don't hope for the best for your
minor children
. A will is used to name guardians for minor children and to name a financial guardian who will oversee assets left for them. Without a will, the court will make that decision. The person selected by the judge may not be the person you'd want.
Fair Distribution of Assets
Equal is not always fair. If you paid for your oldest child's college education, and your youngest is still in middle school, how will an equal division of your assets be fair to the child who has yet to go to college? A will and estate plan lets you map out how assets can be distributed equally, taking a variety of factors into consideration.
Avoiding Premature Inheritance Issues
Inheritance begins at age 18, ready or not. With no will, children 18 and over will inherit assets all at once, no questions asked. If you have a son who likes expensive cars, there won't be anything stopping him from spending his entire inheritance on a Ferrari.
Strengthening Relationships Through Estate Planning
Demonstrating Love and Commitment
Estate planning is an act of love. Couples strengthen their relationship, when they create an estate plan. It's a love letter to your spouse and your family that demonstrates a tangible desire to protect them.
Building Trust with Key Individuals
Build personal connections. Asking someone to be there for you and your family when you are the most vulnerable—incapacitated or deceased—is a strong statement of trust. Creating an estate plan cements relationships and sends a clear message that you believe in others to care for your loved ones.
Ensuring Involvement in Your College-Age Children's Health Care
Make parenting your college-age children easier. In the eyes of health care privacy laws, your children are strangers to you, once they reach the age of majority in your state (i.e., usually age 18). With young adult health care
powers of attorney
and HIPAA (Health Insurance Portability and Accountability Act) privacy waivers in place now, you can be informed and involved in case of an emergency later.
Adapting to Changing Circumstances
New Laws Make Estate Planning More Accessible
The state wants you to have an estate plan. One of the results of the coronavirus pandemic is that many states have made it lawful to have estate plans witnessed and notarized by video conference. You don't have to leave the house to create or update your estate plan. There are no excuses now!
Facing Mortality and Being Prepared
Your mortality is basically 100%. People procrastinate having their estate plans done because who wants to think about death and dying? However, whether or not you procrastinate doesn't matter. We will all die one day, and an estate plan will make it better for those we leave behind.
Utilizing Extra Time to Plan for the Future
Contact our estate planning lawyers, and get it done. There's no time like the present.
Reference: OakPark.com (April 15, 2020) "Top ten reasons to create an estate plan today"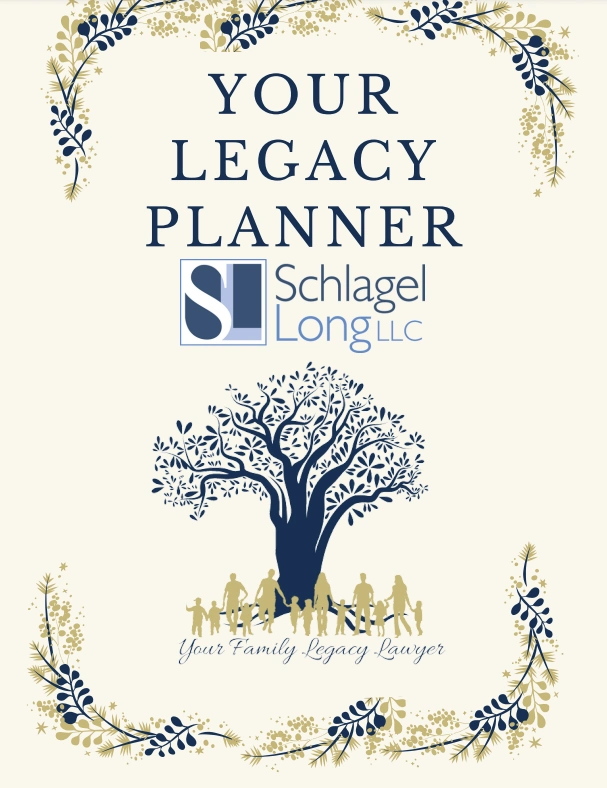 Estate Planning Legacy Planner
Everyday, we work with people who have lost someone they care about. There is so much these folks have to organize and manage. This planner organizes the information they will most need, in our experience, saving so much time and unnecessary cost. Besides organizing your information, it's so important to have a good estate plan that will keep your family out of court and conflict.
Please use the button below to receive a free copy of our Estate Planning Legacy Planner, an organization tool essential to any estate plan designed to help your loved ones take care of you and handle your affairs.
Want To Learn More About Protecting You and the People You Love With a Simple, Custom Estate Plan?