Kansas Estate Planning & Probate Attorneys
For Everyone You Love and Everything You've Built. Simple, Thorough Estate Plans.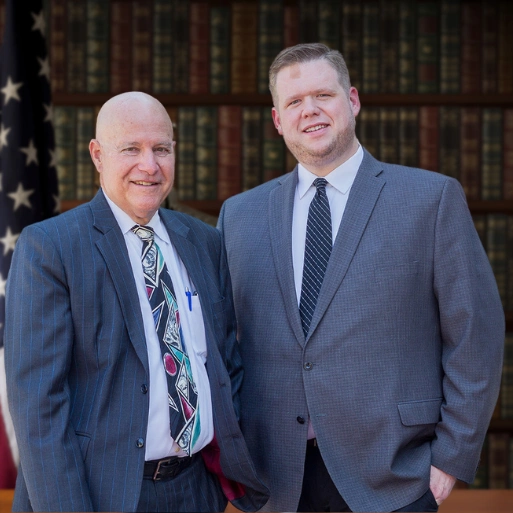 Comprehensive estate planning covers nearly every aspect of life. At Schlagel Long Rivera, we do not offer a "one size fits all" estate plan. We work to form a lasting relationship with you and your family. We take time to get to know you and what you care about. Our goal is to create an estate plan that is exactly right for you and to empower you with the information you need to know how to use your plan. We want to have a deep-rooted relationship with you so that you are always comfortable calling us when you need us.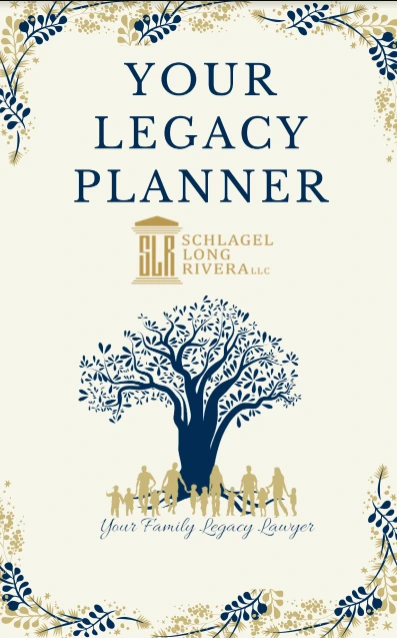 Estate Planning Legacy Planner
Everyday, we work with people who have lost someone they care about. There is so much these folks have to organize and manage. This planner organizes the information they will most need, in our experience, saving so much time and unnecessary cost. Besides organizing your information, it' s so important to have a good estate plan that will keep your family out of court and conflict.
Please use the button below to receive a free copy of our Estate Planning Legacy Planner, an organization tool essential to any estate plan designed to help your loved ones take care of you and handle your affairs.
Fundamental Estate Planning
There are many legal strategies involved in estate planning, including the creation of:
wills,
revocable living trusts,
irrevocable trusts,
durable powers of attorney,
living wills,
asset inventories,
transfer on death documents,
and health care documents.
Our process starts with you filling out an assessment to convey your goals and organize information about your family and assets. If you take the time to fill out our assessment, we will meet with you in a free strategy session to talk about the simplest plan to accomplish your goals and protect your family.
In our strategy session we will tell you what our firm can do for you and teach you some things you can do for yourself. There is no obligation or pressure to move forward after out meeting. If nothing else, you will have a much greater understanding of the risks of not having an estate plan, things you can do yourself to protect your family, and an organized set of information that your family will find invaluable.
Probate is the court and process that looks after people who cannot make their own personal, health care and financial decisions. These people fall into three general categories: Minor Children (under age 18 in most states); Incapacitated Adults; and People who have died without legal arrangements to avoid probate. Probate proceedings can be expensive and time-consuming. Additionally, the court proceeding and associated documents are all a matter of public record. Many people choose to avoid probate in order to save money, spare their heirs a legal hassle, and keep their personal affairs private.
Creating Your Family Legacy
Our unique legacy process gives your loved ones a precious gift - a lasting expression of your love. If you are temporarily or permanently incapacitated or when you pass, part of all of our plans includes a consultation with your family to guide them through what they need to do. These consultations are at no cost and included with every estate plan we create no matter the size.
Special Needs Trusts & Issues
Special Needs Estate Planning focuses on providing for the special needs of our loved ones with disabilities when we are no longer there to organize and advocate on their behalf. Parents of children with special needs must make careful estate planning choices to coordinate all of the legal, financial, and special care needs of their children – both now and in the future. Our plans go beyond just ensuring governmental and other benefits are preserved--they state your wishes explicitly to make sure your loved one continues to have the care and lifestyle you want for them.
Many blended families face unique social, psychological and economic challenges. As a result, over 60% of second marriages end in divorce. Fortunately, there are numerous organizations and support groups dedicated to helping blended families with these challenges. There are special considerations when creating a plan for an estate plan for a blended family. We will not overly complicate your plan addressing these considerations, rather we will go over them with you and talk about whether you can address them yourself with some tools we will give you or if we should address them in the documents we are creating for you.
Children are a family's greatest treasure. Think of all the precautions taken to safeguard young children – from the first purchase of an infant car seat to the compulsory swimming lessons and even driver's safety instruction. Yet, most parents leave their children completely unprotected from one of life's most crushing blows – being orphaned upon the loss of their parents. Our plans ensure your kids have caretakers both immediately and for long term should the unthinkable happen to you.
Want To Learn More About Protecting You and the People You Love With a Simple, Custom Estate Plan?
Over 70 Years of Combined Legal Experience
Each Client Receives Personalized Strategy
Our Firm is Top-Rated & Award-Winning