Your Estate Plan Needs To Be Customized
The Importance of Customized Estate Planning
"Estate planning documents often are treated like the photocopied permission slip for a child's field trip. You fill in your name, include the children's names and dates of birth and sign. The document is filed away to be used if needed, but you really never expect it to be used."
The Dangers of Generic Estate Plans
The only thing worse than having no estate plan, is an estate plan created from a 'fill-in-the-blank' form, according to the recent article "Don't settle for a generic estate plan" from The News-Enterprise. Compare having an estate plan created to buying a home. Before you start packing, you think about the kind of house you want and how much you can spend. You also talk with real estate agents and mortgage brokers to get ready.
Estate Planning as an Investment in Your Future
Even when you find a house you love, you don't write a check right away. You hire an engineer to inspect the property. You might even bring in contractors for repair estimates. At some point, you contact an insurance agent to learn how much it will cost to protect the house. You rely on professionals, because buying a home is an expensive proposition and you want to be sure it will suit your needs and be a sound investment.
Working with Professionals for a Comprehensive Estate Plan
Collaboration with Financial Advisors, Accountants, and Business Advisors
The same process goes for your estate plan. You need the advice of a skilled professional–the
estate planning lawyer
. Sometimes you want input from trusted family members or friends. There other times when you need the estate planning lawyer to help you get past the emotions that can tangle up an estate plan and anticipate any family dynamics that could become a problem in the future.
The Role of an Estate Planning Attorney
An
estate planning attorney
will also help you to avoid problems you may not anticipate. If the family includes a special needs individual, leaving money to that person could result in their losing government benefits. Giving property to an adult child to try to avoid nursing home costs could backfire, making you ineligible for Medicaid coverage and cause your offspring to have an unexpected tax bill.
Proper Execution and Management of Your Estate Plan
Your
estate planning lawyer
should work with your team of professional advisors, including your financial advisor, accountant and, if you own a business, your business advisor. Think of it this way—you wouldn't ask your real estate agent to do a termite inspection or repair a faulty chimney. Your estate plan needs to be created and updated by a skilled professional: the estate planning lawyer.
Safeguarding and Distributing Original Documents
Once your estate plan is completed, it's not done yet. Make sure that the people who need to have original documents—like a power of attorney—have original documents or tell them where they can be found when needed. Keep in mind that many financial institutions will only accept their own power of attorney forms, so you may need to include those in your estate plan.
Medical documents, like advance directives and healthcare powers of attorney, should be given to the people you selected to make decisions on your behalf. Make a list of the documents in your estate plan and where they can be found.
Updating Your Estate Plan Regularly
Preparing an estate plan is not just signing a series of fill-in-the-blank forms. It is a means of protecting and passing down the estate that you have devoted a lifetime to creating, no matter its size.
Reference: The News-Enterprise (June 23, 2020) "Don't settle for a generic estate plan"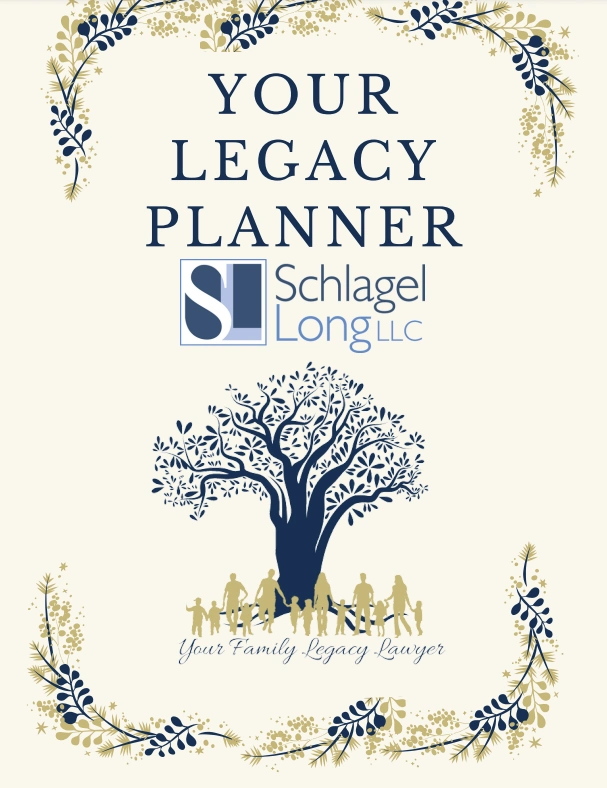 Estate Planning Legacy Planner
Everyday, we work with people who have lost someone they care about. There is so much these folks have to organize and manage. This planner organizes the information they will most need, in our experience, saving so much time and unnecessary cost. Besides organizing your information, it's so important to have a good estate plan that will keep your family out of court and conflict.
Please use the button below to receive a free copy of our Estate Planning Legacy Planner, an organization tool essential to any estate plan designed to help your loved ones take care of you and handle your affairs.
Want To Learn More About Protecting You and the People You Love With a Simple, Custom Estate Plan?