When Should You Have 'the Talk' With Your Kids?
The Importance of Discussing Estate Planning with Your Children
"An immature or troubled child could try to misuse your money or goad you into handing over assets you might need later. Complicated family dynamics, or just your desire for privacy, may make you hesitant to open up."
Talking about who will control your assets is always a tricky thing, says AARP.org in a recent article "Do Your Kids Know Where to Find All Your Money if Tragedy Strikes?" The risk of adult children being caught unawares or without access to a parental funds could lead to big problems, if the parents should die or become incapacitated unexpectedly. Experienced estate planning attorneys know the conversation is better had now, than pushed into the background with a giant surprise in the future.
Balancing Privacy and Preparedness in Financial Discussions
When a parent's finances are revealed only after their death, or if dementia strikes, the unexpected responsibility can create a lot of stress. However, there are also reasons not to tell. If a child has a substance abuse problem, or is in a bad marriage, this information may be best kept under wraps. There is no one-size-fits-all solution. However, there are some universal rules to consider.
When to Reveal Your Financial Situation to Your Kids
Short on cash? Don't make a secret of it. If you might end up needing help during retirement, it's best to tell your children early on. Family members have helped each other since there were families, but the earlier you involve them, the more time they have to help you find more resources and make plans.
Preparing Your Children for Their Future Responsibilities
Organizing and Sharing Essential Financial Information
Dealing with big numbers? You might want to wait. The amount of money you have worked a lifetime to save may look like an endless supply to a 22-year old. When young adults learn there's a pot of gold, things can go south, fast. If you have a spouse and are relatively young and healthy, then all the children need to know, is that you are well set for retirement. By the time you're closer to 80, then your children and/or a trusted financial representative and your
estate planning attorney
will need to know where your money is and how to access it.
The Benefits of a Family Meeting in a Neutral Setting
How to share the details? Start by making a complete list of all of your assets, including account numbers, key contacts and any other details your executor or agents will need to handle your affairs. Put that information into an envelope and make sure that your children or your
estate planning lawyer
know where it is. If the information is kept on your computer or on an online portal, make sure the right people have access to the passwords, so they can access the information.
Introducing Your Children to Your Estate Planning Team
How to share the big picture? Estate planning attorneys often recommend a family meeting in their offices, with all of the children present. It's helpful to have this meeting happen in neutral territory, and even children who tend to squabble among themselves behave better in a lawyer's conference room. You can explain who the executor will be, and why.
Introduce them to your team. Chances are you have a long-standing relationship with your estate planning attorney, financial advisor and accountant. These are the people your children will be working with after you have passed. Having them meet before you die or become incapacitated, will be better for a working relationship that will likely occur during a stressful time.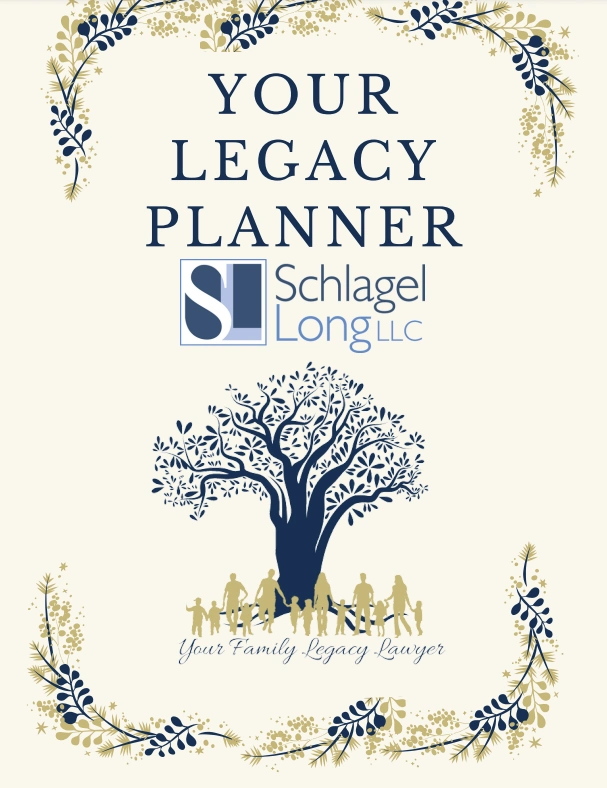 Estate Planning Legacy Planner
Everyday, we work with people who have lost someone they care about. There is so much these folks have to organize and manage. This planner organizes the information they will most need, in our experience, saving so much time and unnecessary cost. Besides organizing your information, it's so important to have a good estate plan that will keep your family out of court and conflict.
Please use the button below to receive a free copy of our Estate Planning Legacy Planner, an organization tool essential to any estate plan designed to help your loved ones take care of you and handle your affairs.
Want To Learn More About Protecting You and the People You Love With a Simple, Custom Estate Plan?