Don't Overlook Key Parts of Estate Plan
The Essential Components of Estate Planning
"During the past four months, more than 141,000 Americans have died of COVID-19. Anecdotal evidence suggests that the pandemic has prompted some people to get serious about creating or
updating their estate plans
, according to Christine Benz, Morningstar's director of personal finance."
The Importance of Key Estate Planning Documents
The importance of having key
estate planning
documents cannot be overstated. That includes a will, an advance directive, powers of attorney for health care and financial matters and guardianships for minor children. Trusts may also be part of an estate plan, and they need to be created and funded in a timely manner. However, according to the article "
7 Things Your Client's Estate Plan Might Be Missing: Morningstar
" from Think Advisor, there are a number of frequently overlooked additional parts to an estate plan that make a difference.
Commonly Overlooked Aspects of Estate Planning
Creating a Financial Overview
This gives a broad outline of your assets and can be a useful discussion starting point, when one spouse manages the money and the other needs to be brought up to speed. It includes information about larger assets, including the home, investments, cars and other valuables.
Compiling a Comprehensive Account Directory
Creating a complete master list of all accounts, including the account number, website addresses and the names of any individuals that you deal with on a regular basis, avoids sending loved ones on a scavenger hunt. Keep this document safe—either encrypt it or keep it in a locked, fireproof safe in your home.
Addressing Personal Property Distribution
Wills contain directions about property, but not everything gets included. Make a list of any tangible personal property that you want to go to specific people, like jewelry or artwork, and create a detailed memo. It won't be part of the will, but most states consider such memos legally binding, as long as they are mentioned in the will. Your estate planning attorney will know what is best for your situation and in your state.
Establishing a Plan for Pets
The best way to do this is with a pet trust, which is enforceable. You name a person to take care of your pets, and how much money they should use to care for the pet. The will can be used to specify who should be your pet's caretaker. You can leave assets for the pet, but the designated person is not legally bound to use the money for the pet's well-being.
Developing a Digital Estate Plan
Make a plan for your digital property, including tangible digital devices, like computers and phones and the data stored on devices in the cloud and online accounts, including social media, websites, emails, photos, videos, etc. Start by making an inventory of all digital accounts, which needs to be stored in the same way your directory is: under lock and key.
Preparing for End of Life Decisions
The Role of Advance Directives
End of Life Plan. Advance directives are used to direct your wishes towards life-extending care, but they don't always go into detail. Providing additional information to loved ones who might need to make health care decisions could alleviate a lifetime of guilt.
Communicating Your Wishes to Loved Ones
Having conversations is a starting point but putting your wishes into a document is better.
Leaving a Legacy with an Ethical Will
Ethical Will. An ethical will in which the person hands down their belief system to loved ones is a gift and part of your legacy.
Sharing Your Beliefs and Life Lessons
What would you want the next generation to know about your beliefs? What life lessons do you want to share?
Reference: Think Advisor (July 22, 2020) "7 Things Your Client's Estate Plan Might Be Missing: Morningstar"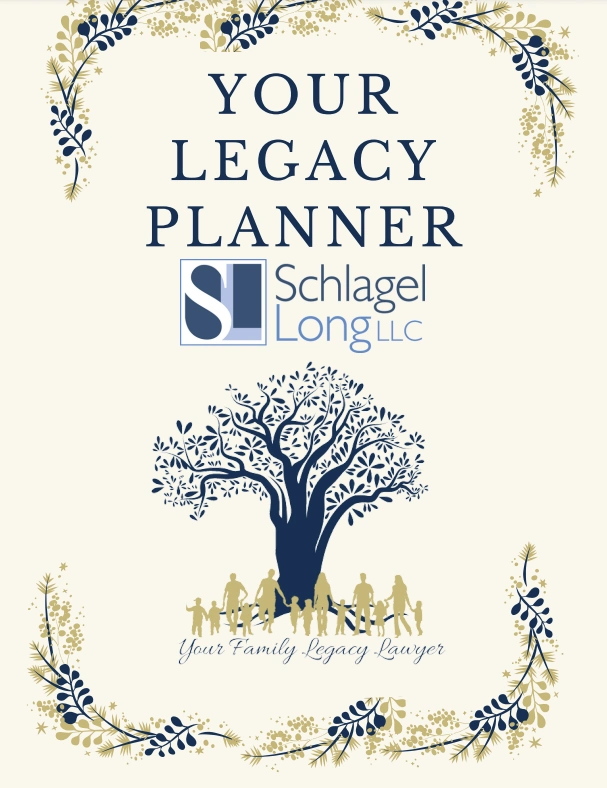 Estate Planning Legacy Planner
Everyday, we work with people who have lost someone they care about. There is so much these folks have to organize and manage. This planner organizes the information they will most need, in our experience, saving so much time and unnecessary cost. Besides organizing your information, it's so important to have a good estate plan that will keep your family out of court and conflict.
Please use the button below to receive a free copy of our Estate Planning Legacy Planner, an organization tool essential to any estate plan designed to help your loved ones take care of you and handle your affairs.
Want To Learn More About Protecting You and the People You Love With a Simple, Custom Estate Plan?